IV. SED FAILS AT FULLY IMPLEMENTING MCKINNEY-VENTO
The SED's failure to administer the program with success causes homeless youth to fail academically. The following sections outline SED's major violations of McKinney-Vento.
A. School Transfers Remain Excessively High
Students that lack a permanent, stable home environment are entitled to special assistance by the government to maintain the continuity of their education. However, the data provided by the DOE reveals a sobering story for many homeless children. From 1999 to 2003, our research uncovers an alarming rate of transferring among STH.
Despite the right for all homeless children to remain at their school of origin, 48 percent of the homeless student population in NYC ended up transferring schools during the 2002-2003 school year, with an average each year of 50 percent. Yet, while the national average for school mobility is 15 percent,9 too many STH are transferring schools not only once, but repeatedly throughout the school year.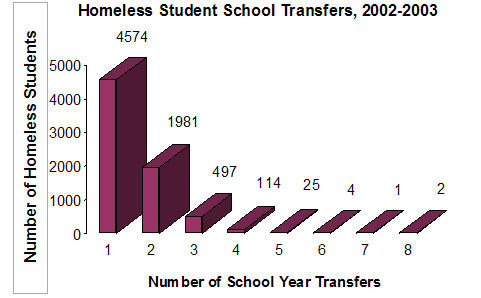 One homeless student out of every 6 transfers two or more times during the year and 1 out of 25 STH transfers three times or more. While very rare, some STH have transferred as many as eight times in only one year. In addition, STH that transfer have a 9 percent chance of doing so three or more times during the year. Such high rates of transferring prove that the SED has failed to prioritize keeping STH in their school of origin. These findings are alarming considering that each time a student transfers, it takes four to six months to catch up academically.10 In addition, children who frequently transfer schools are more likely to repeat a grade than children who have never changed schools.11
B. Broken Down Transportation
Free transportation to and from the school of origin is one of the most critical rights accorded to STH that will ensure their educational stability and academic continuity. An enormous barrier to staying in the school of origin is the lack of easily and quickly accessible transportation aid required under McKinney-Vento. Concurrently, homeless parents who need to accompany their children to school are not accorded assistance by STH staff to secure transportation aid for themselves, an additional violation of McKinney-Vento. As stated above, 43 percent of all STH in NYC public schools are in grades pre-k through 3. In light of this fact, clearly free transportation for parents is crucial in making sure these children are able to arrive at school.
Many students living in homelessness would like to stay at their school of origin, but choose to leave because of the bureaucratic headache involved in accessing transportation. Various state and local laws echo McKinney-Vento's transportation requirements, however Advocates for Children, an agency which assists homeless families, finds transportation denials commonplace. According to Advocates for Children, the DOE denies or never offers bussing to general education (K-6) students. Parents who must accompany their child on public transportation are often denied access to grant money for their trips, even though this is a violation of the Office of Temporary and Disability Assistance (OTDA) policy, State education law, and the SED's own regulations. Advocates find students who are ineligible for OTDA grants are almost never offered assistance by local schools districts. In turn, without guaranteed free transportation, parents may not be able to get their children to school or may not choose to have their children stay at the school of origin.
If New York excuses itself for failing to provide STH with easy, quick access to free transportation to and from the school of origin due to a lack of funding, it should be reminded that other major U.S cities have found innovative ways to pay for the transportation needs of homeless children and youth. For example, Chicago finds a way to use Medicaid monies and Houston pays to transport its homeless youth to school though its general fund. In one Virginia school district, the administration has found creative ways to go over budget in the short-term until new monies become available in the long-term, all this to pay for taxis to take homeless children to school. It is not impossible to serve this population and New York must pool its resources and devise a system that works for each and every deserving student.
If, however, the reasons behind STH's transportation woes are due to the bureaucracy of the administrative process, the State and City must devise a more streamlined system. Since STH move with such frequency, record keeping can be quite voluminous. However, it is the responsibility of the State and City to ensure that STH be able to get to school despite these obstacles.
C. Data Tracking Off-track
McKinney-Vento requires the SED to collect data on STH from local school districts to show that it is complying with the law. However, a letter, dated March 9, 2004, from the SED in response to our February 2nd FOIL stated:
"Please note that the State Education Department does not currently have the information you requested. Prior to the current school year, school districts had not been mandated to provide this information."12
The reauthorized McKinney-Vento has been in place since 2001. Clearly, the SED has not been collecting the required data for over three years.
To complicate matters, agencies seem to be compiling contradictory data on the numbers of school-aged homeless youth. The data provided by the DOE shows 16, 341 STH. According to the New York City Department of Homeless Services, there are 19,532 school-aged children living in the DHS shelter system during fiscal year 2003 (not to mention the homeless youth that do not sleep in shelters). Yet, the DOE Regions applied for funding to serve only 8,872 homeless students that year. This major gap in data shows significant undercounting of STH and subsequently results in significantly reduced services and funding. The City should have been asking for as much as $870,000 more in funding than they requested last year.
D. Funding Inequities
The State Department of Education has an enormous amount of discretion in its allocation of subgrants to help school districts comply with McKinney-Vento. The SED is required to award competitive McKinney-Vento subgrants to individual school districts. However, the SED determines those allocations without taking into consideration the number of students served. In contrast to other states across the U.S., New York chooses to set an arbitrary subgrant cap of $100,000 that each local school district may receive. As a result, there are several cases in which school districts with low numbers of STH receive the same subgrant amount as districts serving very high STH populations. For example, in 2004 the SED funded the New Rochelle City school district homeless program with $100,000 to serve 101 homeless students. Whereas, the SED also gave school district 12 in New York City the same amount ($100,000) to serve 1,415 homeless students. This lopsided system is ludicrous and the cap should be lifted to create more equitable allocations.
Currently, New York City has 63 percent of the students living in homelessness across the State, but receives only 38 percent of state program funding. In fact, as many as four city school districts did not apply for funding in 2004, despite showing a decent size homeless student population in 2003.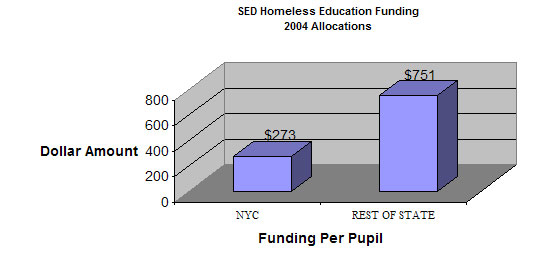 On the federal level, McKinney-Vento includes a maximum nationwide authorization level of $70 million. This past funding cycle, the U.S. only allocated $60 million for McKinney-Vento nationwide. New York State currently receives $6.4 million from the federal government. It is imperative for Congress to fully fund the Education for Homeless Children and Youth program and increase its grant to New York. The Governor and Mayor should both advocate for full aid from Washington.
E. Homeless families left in the dark
According to McKinney-Vento, each local education agency must appoint a liaison for homeless students. The liaisons are charged with ensuring the parents or guardians of homeless children and youths are aware of both the child's educational and transportation rights and opportunities. These liaisons must disseminate information on homeless children's educational rights in places where homeless services, such as shelters or soup kitchens, are administered to families. Yet, there are no public postings in schools, shelters, or other homeless service providers regarding the educational rights of STH. The SED must increase outreach to homeless service organizations to empower families and service providers to help STH succeed.
F. Communication lines cut between State and localities
School districts must collaborate with each other regarding STH transportation as well as the swapping of school records. The SED is also required to monitor subgrant recipients and the programs they help fund. However, according to Advocates for Children, SED just began the process of setting up an advisory committee to address communication. While preliminary meetings have begun, no actions have been taken to permanently improve communication between the State and localities.
G. High turnover + insufficient staff training = poor performance
The State Coordinator, a required position for the Education for Homeless Children and Youth program, has been vacated and filled three times in the past 3 years. Sheila Evans-Tranumn is currently considered the official State Coordinator for New York. However, she also serves as the SED's Associate Commissioner for the Office of New York City School and Community Services. Employing a part-time McKinney-Vento coordinator that has other responsibilities for the entire State of New York is sorely inadequate. The State's program deserves a full-time administrator.
In addition, there is an overall lack of training for the staff charged with implementing and enforcing McKinney-Vento. The Regional liaisons need and deserve regular training and support to comply with the federal mandates.
In contrast to New York, states such as Texas and Virginia are known for running good programs statewide because of their sizable, consistent and experienced program staff. According to Barbara Duffield, the Policy Director for the National Association for the Education of Homeless Children & Youth, "New York is routinely and repeatedly out of compliance and lacks a formal system for its handling of the program." Virginia and Texas' Education for Homeless Children and Youth programs are run through academic institutions (the College of William and Mary and University of Texas in Austin respectively). Considering SED's failure to run the program effectively in New York, it may be useful to explore shifting the program to an academic institution that employs experts in the field of education and homelessness.