East Vestibule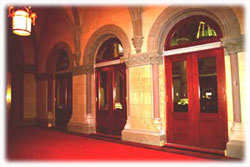 In its original design, the East Vestibule provided direct entrance to the rear of the Chamber. However, attacks on members of Congress in the early 1950ís led to a decision to tighten security by walling up the two vestibule doorways into the Chamber.
Renovations to this area include installing a ramp to assist disabled visitors and relocating the stained glass window from the East Vestibule to a site across from Assembly elevators 7 and 8.
The two arched doorways that had been walled up at the east entrance to the Chamber, also have been reopened to provide safer and easier access. The mahogany doors now hanging in the restored archways are nearly exact reproductions of the originals. The only difference: glass panes have been substituted for some of the wooden panels to allow visitors to look into the Chamber.